App-139 is great! We're extremely happy and never want to go back to pen and paper.
Chattanooga Metropolitan Airport
Operations-Safety Compliance Supervisor
Keep everyone who matters actively in the loop about the status of all your inspections and work orders.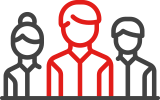 The estimated savings in labor costs since App-139 was put into operation is about 40% . . .The airport inspection procedure for airport operations was reduced from seven steps to four and the maintenance work request procedure was reduced from five steps to three.
Ventura County Director of Airports
Airport Magazine June/July 2015