Smart Technology Choices for Today
---
Airside and landside airport safety is always our #1 priority. App-139 and its underlying technology satisfy all requirements for reliability and accessibility so you always have the tools and data to confidently run a safe operation.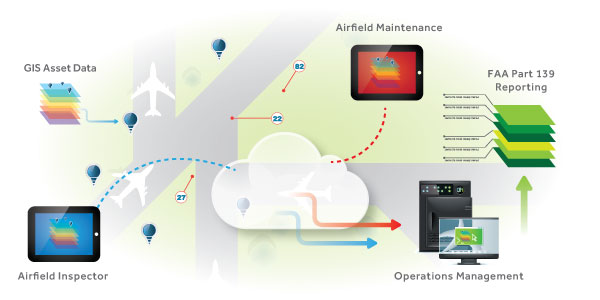 State-of-the-Art Cloud-Based Application
App-139 is useable by anyone on your team with an iPad or PC. There's nothing to download, and there are no server upgrades or new servers to maintain. App-139 is always up to date and always available from anywhere.
App-139 is cloud-based, which means it delivers increased capacity and adds new capabilities without investment in new infrastructure, hiring or training personnel, or licensing new software. This is more efficient than licensing conventional software and the savings are passed on to you. We need to only maintain one version of the software — not multiple revision levels that have different collections of patches for fixes and features — so our support staff know exactly what you need when you call for help.
The benefits of a cloud-based app include:
Secure and reliable access to all critical information 24/7 is available anytime and anywhere
Lower cost, yet powerful IT infrastructure, without extra hardware
The ability for the entire team to stay mobile and in the loop, even when out on the airfield, if there's an Internet connection
Safe and Secure Data
Managing your own files and keeping them safely stored in a local computer or file cabinet is challenging, expensive and time-consuming. With App-139, all asset and maintenance data is protected in state-of-the-art cloud-based data facilities with the most advanced physical and computer security protection. This includes comprehensive disaster recovery plans and frequent data/system backups. This ensures that data is always available and current, so you can focus on your #1 priority — safety.
Affordable Mobile Devices
Efficient airside and landside management and countless airfield operational tasks require mobility.
App-139 runs natively on the highly mobile iPad, and there's no special equipment to install or bolt into inspection vehicles.
iPad tablets include functions that enhance your inspection efforts, including:
GPS tracking
Built-in camera
GIS image of your airport
Email notifications
Automatic Software Updates
Every time you access App-139 on your PC, new features and capabilities are ready for you. Updating the iPad version is as simple as updating through the iTunes store. No more figuring out how and when to roll out new software to users. And no need to refresh hardware and network infrastructure to support the increased memory or storage requirements of traditional software.
Fast Implementation
Changing traditional installed software programs can be an arduous and difficult process. Implementing cloud-based App-139 is fast and simple. There are no servers to install or upgrade, and there is no lengthy software installation period or steep learning curve.
In fact, App-139 is typically implemented in less than two weeks and only requires only a few simple steps to be ready to begin reaping benefits!
The App-139 platform creates substantial efficiencies in the daily self-inspection process. The GPS vehicle tracking function and airfield GIS data incorporation are great!