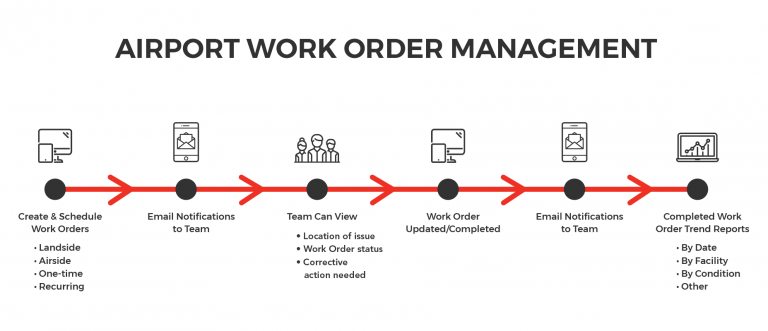 All-In-One Work Order Management
---
App-139 offers airports a comprehensive Work Order function for managing the identification and repairs for any airside or landside issues. From creation to completion and reporting, it keeps everyone who needs to know in the loop all along the way. Specifically, App-139's Work Order features include:
A customizable, repeating work order option. This lets you create and set up work orders to repeat on a daily, weekly, monthly or annual basis with an automatic email notification sent to the appropriate personnel.
Connection to the App-139 inspection platform for a complete closed loop process.
Customizable work order functionality for tracking of airside and landside issues.
Detailed corrective Information on what the issue is, when it was fixed, who did the work, and the corrective action taken.
Automatic notifications to proper personnel of work order creation and completions.
Reassignment of work orders.
Pins/polygons on a 'living' airport map to show the location of each current issue.
Color-coded work order status notations on the map.
Optional email notifications when someone adds a new note and/or places the work order "in progress".
Records of the man hours/cost of each work order.
Analysis of work orders by date range, department, facility, condition, or keywords.
Saving data to your own device or desktop for printing or exporting the information to Excel or a PDF document.
App-139 is a great product. It does so many things for us and it's all in one product. Most of all it has made us more efficient!